Projects Under Construction:
Registration of agricultural roads into state roads.
Placement and maintenance of wooden seats.
Creation of a Children's Park (estimated cost: 250,000 Euros)
Creation of a Nature's Trail, Theme Routes and Cultural Heritage Routes (estimated cost: 50,000 Euros)
Creation of Multi-powered Cultural Centre near the chapel of Prophet Elias (estimated cost: 1.500.000 Euros).
Construction of a new water tank at a higher place to cover all the village's needs in fresh drinking water (estimated cost: 80.000 Euros).
Formation of a point within the village which will be dedicated to the women of Agridia for their enormous contribution to the national fights of our country (estimated cost: 30.000 Euros).
Reinforcement and expansion of street lighting (2007-2011, cost: 42.000 Euros).
Construction of retaining and small walls on street edges in addition to the beautification of the streets (2007-2011, cost: 400.000 Euros).
Asphalting of roads within the village and concrete overlay of rural roads (2007-2011, cost 200.000 Euros).  
Construction of rainwater drain-pipes within the village (2007-2011, cost 100.000 Euros).
Easter and Christmas decoration of streets and squares 2007-2011, cost, 12.000 Euros). 
Source:
Agridia Community Council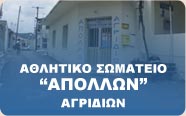 COMMUNITY COUNCIL OF AGRIDIA
4872 Agridia
LImassol
Tel: 25521336
Fax: 25521336
E-mail: [email protected]
cytanet.com.cy